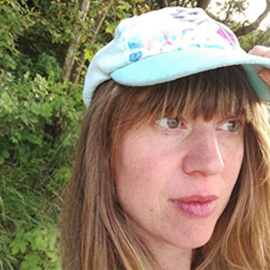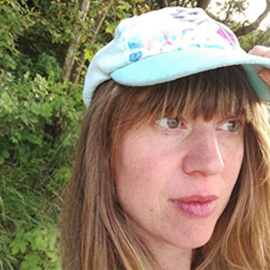 NINA KAUN
2011 she did a Master of Arts in visual communications at the School of Art and Design Kassel,
as well a diploma as an art therapist done in 2005. Her main subject and focus is illustration, associative
story-telling and book design. In this connection she is espacially interested in interpersonal
relationships, forces of nature and there influence of our awareness and social acting.
Her drawings are mixed settings out of night dreams and everyday occurrences. During the years
she created several personal and commissioned books and spended a lot of time at printing studios.
2009 she was an exchange student at the Hogeschool voor Wetenschap & Kunst Sint-Lukas in Gent / Belgium.
Nina Kaun got serveral residencies like Otto- Braun Stipendium and Stipendium Künstlerkolonie Willingshausen.
Since 2015 she teaches drawing and illustration classes at Jugendkunstschule Pankow/ Berlin and
had lectureships at SHR Hochschule der populären Künste (hdpk) / Berlin. She is member of STATTLAB / Screenprintstudio Berlin.
She lives and works in Berlin.
CLIENTS
Chrismon magazine
Jugendkunstschule Pankow Berlin
EAT CLUB magazine
Junge Welt Newspaper
VERLANGSHAUS BERLIN
Märchenwache Schauenburg
WIENERIN magazine
WELT DER FRAUEN magazine
EMOTION magazine
Le Monde Diplomatique
Brigitte MOM magazine
DAS MAGAZIN
RaumItalic
Junge Deutsche Oper Berlin
STIPEND
2013
ART SCHOLARSHIP WILLINGSHAUSEN / artist residency of Sparkassen-Kulturstiftung Hessen-Thüringen/Germany
2011
GRADUATION STIPEND OF OTTO-BRAUN FOUNDATION to support young artists Studying abroad
2009
Exchange study at the illustration classes of Goele Dewanckel at the Hogeschool voor Wetenschap & Kunst Sint-Lukas
in Gent/Belgien
PUBLICATIONS
2020 "KWARK OKK" - SPRACH DIE KRÄHE / Rotopol
2020 TEILCHENLAND/ Verlagshaus Berlin
2018 FUSSBALL, MARX UND TRÄNEN / Le Monde Diplomatique / Reprodukt
2017 SEEING HER GHOSTS / Artbook by Kirsten Becken/ Verlag für Moderne Kunst
2016 RIVER SNAIL GIRL / Fairy Tales comics group project between german and chinese artists/ publisher yan shu 鼹书
2014 ICH DENKE AN DICH / Alfred Hohmann
2013 WIE IMMER IM FRÜHLING / rotopolpress
2011 DANN LIEGE ICH MIT GESCHLOSSENEN AUGEN IRGENDWO - DENN ICH SCHLAFE IM TRAUM / self-published
2011 AUF, AUF UND DAVON / rotopolpress, extended new edition
2010 SOMETIMES I WAKE UP / self-published
2010 TODAY AND TOMORROW / group project of the illustration classes Kassel
2009 A STREETCAR NAMED DESIRE / group project of the illustration classes Gent
2007 AUGEN IN DER GROßSTADT / published by Doris Krininger/ Reinhold Weber
2007 LORENZ UND QUENDOLIN / rotopolpress
2007 HÄNSEL UND GRETEL / rotopolpress
2006 DAS VERRÄTERISCHE HERZ / self-published
TRIEBWERK 1, 2 und 4 / book projects of the illustration classes Kassel
EXHIBITIONS
2020
Rotopol group exhibition / Raum 404 / Bremen
"KWARK OKK" - SPRACH DIE KRÄHE / Rotopol group exhibition / Schauenbruger Märchenwache
2019
ILLUSTRADE Festival für Illustration / Rostock
STATTlab group exhibition / screenprint and Photo / Cafe Motte / Berlin
FUSSBALL, MARX UND TRÄNEN / group exhibition / NEXTCOMIC-Festival / Linz
2018
FUSSBALL, MARX UND TRÄNEN / group exhibition / Neurotitan / Berlin
MYSTERY SHOW / group exhibition / Neurotitan / Berlin
SEEING HER GHOSTS / group exhibition / ocelot bookstore/ Berlin
2017
NACHTBLÜHER / solo exhibition / books illustration graphic / Galerie Holzburg
SEEING HER GHOSTS / group exhibition / Pavlov's Dog / Berlin
FAIRY TALES / group exhibition / Hangzhou Illustration and Comics Biennale / China
2016
ArtBookBerlin / Kunstquatier Bethanien / Berlin
2015
WIE IMMER IM FRÜHLING / solo exhibition / RaumItalic / Berlin
2014
FAIRY TALES / group exhibition / SMAC Shanghai Mass Art Center / China
WIE IMMER IM FRÜHLING / solo exhibition / Rotopol / Kassel
2013
WIE IMMER IM FRÜHLING / solo exhibition / Kunsthalle Willingshausen
2012
THE ULTIMATE DISASTER / group exhibition Rotopol / Kassel
2011
EXAMINATION EXHIBITION / Documenta-Halle / Kassel
ZEICHNUNGEN ZUR KÄLTE / group exhibition at Kunst & Kultur Verein / Alte Schule Baruth
2010
Zeichnungen / solo exhibition / APEX pro art / Werkstatt / Göttingen
2009
SECRET SERVICE / group exhibition/ Rotopol / Kassel
I HAD THE IDEA THAT YOU WERE NEAR / Galerie Loyal / Kassel
DE TENTOON GESTELDE MENS/ Der zur Schau gestellte Mensch / Gruppenausstellung im Museum Dr. Guislain Gent / Belgium
RUSSIANS / rotoppol group exhibition / Internationales Comicfestival Fumetto / Luzern(Schweiz)
2008
FIFTY FIFTY / group exhibition / Kunsttempel / Kassel
AUGEN IN DER GROßSTADT / Sateliten solo exhibition / international comicfestival Fumetto / Luzern / Switzerland
INTERNATIONALER COMIC-SALON / Erlangen
2007
WALD UND WIESEN / group exhibition / Rotopol / Kassel
RÜM HART, KLAAR KIMING. / group exhibition / Rotopol / Kassel
NARRENHÄNDE / group exhibition / Amtsgericht Kassel
AUGEN IN DER GROßSTADT / solo exhibition / Rotopol / Kassel
ZEICHEN UND WUNDER / Caricatura / Kassel
2006
MEISTERWERKE DER KRITZELEI / group exhibition / Museumsnacht Kunsttempel / Kassel